On January 18, the U.S. Chamber released their four-point plan for infrastructure modernization and investment, framing the issue as a top policy priority for the business community and urging Congress and the administration to take immediate, meaningful action to advance an infrastructure bill. Steve Caldeira, president and CEO, CSPA, attended the presentation.
"It's time to invest in a 21st century infrastructure system to support and grow our 21st century economy," said Donohue. "It's time to approach this as a national imperative for long-term growth and competitiveness—not an exercise in parochial politics."
Chamber recommendations include: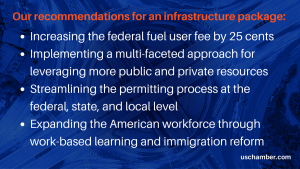 Consumer Specialty Products Association President & CEO Steve Caldeira released the following statement in support of a recent push by the American business community to modernize America's infrastructure:
"The Consumer Specialty Products Association fully supports increased infrastructure spending, and encourages Congress to take meaningful steps to modernize and enhance America's infrastructure network. As the leading trade association representing household and commercial formulated products, we are acutely aware of the critical role that properly-maintained infrastructure systems play in getting our members' products safely into the hands of consumers and workers.
The decline of our nation's railways, highways, airports, and ports threatens the means by which raw materials enter and finished goods leave the specialty product manufacturing facilities that employ nearly 200,000 American workers. A reliable infrastructure system is the linchpin that allows American manufacturing to succeed, and Congress and the administration must take steps to allocate the funding necessary to begin improvements.
We encourage our member companies to contact their elected federal officials in support of legislative proposals that would provide a steady, long term funding source for critical infrastructure while streamlining processes and supporting workforce development."